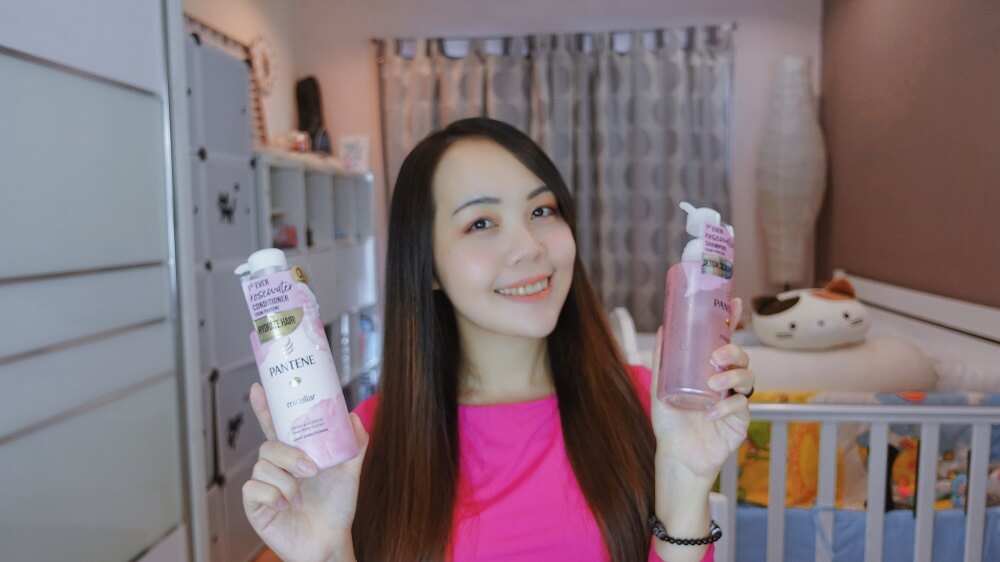 【Pantene's Micellar series shampoo and conditioner】 The products of this series were hot selling in Japan and Taiwan, and they were out of stock for a time. They call it a 'beauty liquid shampoo'. Because they apply the technology used in skin care products to this product. One of the features of Pantene's shampoo and conditioner is its micellar technology. I mentioned Micellar in a previous post, usually micellar is a technique used to remove makeup, usually micellar is a technique used to remove makeup. So it's cleaning effect is very strong.
Another feature of this product is that it has added Vitamin B3 and B5, on its ingredient label are written Niacinamide (Vitamin B3) and Panthenol (Vitamin B5), these are the nutrients that can make your hair healthier and fuller. These two ingredients are often used in skin care products because they have a good moisturizing effect, so this is why the Taiwanese side calls this product a 'beauty liquid shampoo.' This series of products for Taiwan is made in Japan, but ours is made in Thailand. But it's pretty good too, because when we go to Thailand, don't we all go there to buy their shampoo? Right? It's actually the same. So don't feel low when you hear it is made in Thailand. The most important thing is the quality of the product.
It actually has four types : 【Rose Water Extract for Detox & Hydrate – Pink, 【White Charcoal Extract for Detox & Scalp Cleanse – Black】, 【Algae Extract for Detox & Purify – Blue】,【White Charcoal Extract for Detox & Moisturizer – Waterlily】
【Rose Water Extract】 Detox & Hydrate – Pink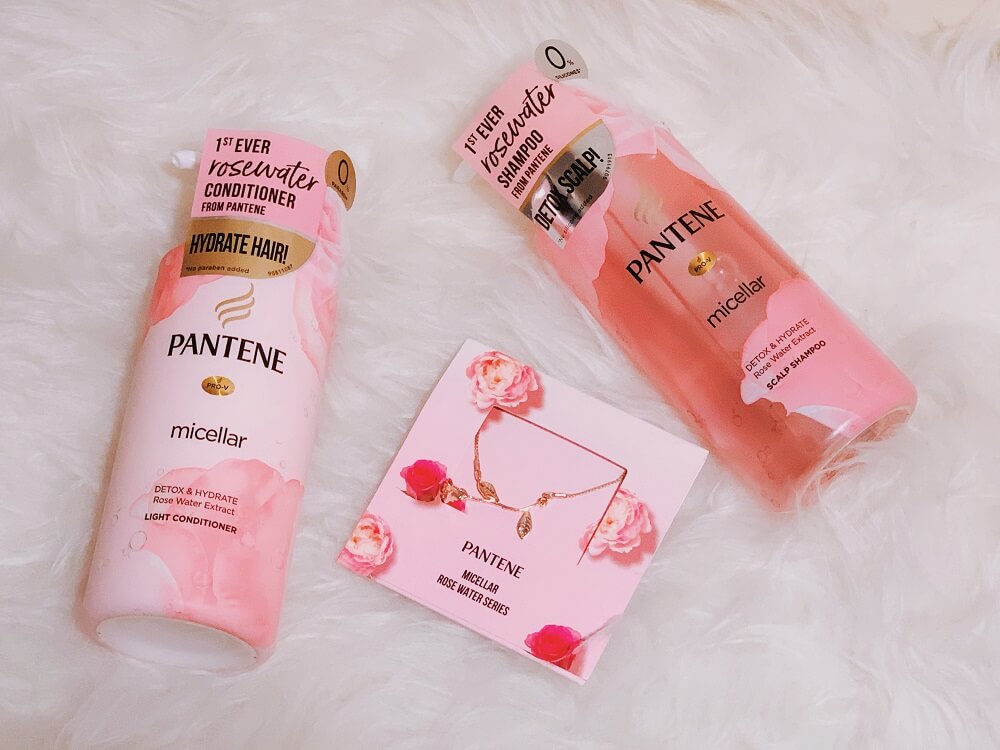 【White Charcoal Extract】 Detox & Scalp Cleanse – Black
【Algae Extract】 Detox & Purify – Blue
【White Charcoal Extract】Detox & Moisturizer – Waterlily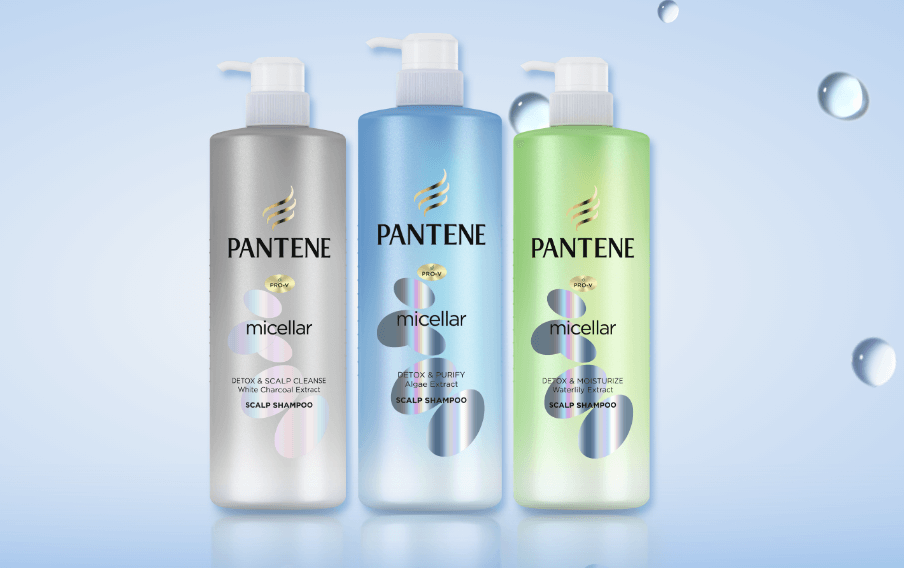 The pink and black models should be new if I am not mistaken. You can choose which one you want avccording to your hair type, green is suitable for dry hair, black is suitable for oily hair, normal hair can use blue, and hair between normal to dry can use pink.
Among these four types, I chose the pink rose water extract. In fact, the reason is very simple, because at that time, only the pink one was given the rose bracelet, as long as you buy more than RM40, you will get it. It is a very beautiful and feminine bracelet. So I was attracted to this thing. So if you also like this rose bracelet, you can buy the pink series like me. Get it when you buy more than RM40. Then it has a large size and a small size. The big one is 500ml, the price is RM35, the small one is 300ml, the price is RM24. But at the time when I bought it, there was a promotion. It costs RM21.20 after discount. The price range is ok ok. Not too expensive.
The rose water extract I chose is for detox and hydrate function. In fact, you can see that each model has the function of detox because of their Micelle. Micelle mainly does cleaning work, and its detox does not mean detoxification. Hydrate's effect comes from its rose extract, Rosa Gallica Flower Extract. Rosa Gallica sometimes also appears on some moisturizing skin care products. Its main function is to rehydrate. But to be honest, this ingredient content is very less in this product. If you use its conditioner and feel that your hair is smooth and shiny, most of the reason is because of other chemical emollients in it, not because of this rose extract.
Then its shampoo is advertised as no silicone added. Silicone is a chemical emollient that many shampoos and conditioners add. It forms a barrier on the surface of your hair. This can make your hair look shiny and smooth. But these are all illusions to you, your hair quality hasn't really improved. This is all about the feeling of that silicone on the surface of your hair. On the contrary, if it is used for a long time, your hair will become heavy due to the long-term adhesion of this silicone on the surface of your hair, and no nutrients and moisture can be entered, causing your hair to become dry, dull, flat and lifeless. So this is why many people do not want to use hair care products with silicone.
Its shampoo does not contain silicone, it is clearly written with no silicone added. But it's conditioner does not advertise no silicone added, because it contains silicone ingredients in fact, but of course you will not see exactly the word 'silicone' on the packaging, because it is written in its chemical name, called is-aminopropyl dimethicone. So if you have no concept of chemistry, it is difficult to identify whether this product has silicone, because mostly they all write chemical names.
As for its conditioner, it is paraben free. In fact, neither of them contains paraben. I mentioned this ingredient in many previous videos, Paraben, which is a preservative, added to the product to prevent the growth of bacteria and mold. Paraben is an ingredient that many people care about and resist. Because there was a case study before, they found paraben in the breast cells removed from a breast cancer patients, although this does not mean that paraben will cause breast cancer, but many people have begun to resist the use of paraben. And paraben also has some impact on our environment and ecosystem. Therefore, paraben is very unpopular nowadays.
Although paraben is not added to this product, it can be replaced with other preservatives, namely methylchloroisothiazolinone (MCIT) and methylisothiazolinone (MIT). Its name is a little hard to pronounce, not many people know these ingredients. We just call it MCIT and MIT. They are often combined together as a preservative. MCIT and MIT are potential allergens, they will cause some people who have more sensitive skin to develop allergic symptoms. It also has its own other side effects, but the amount used in personal care products is scarce. Basically does not cause too significant health problems.
The shampoo's texture is relatively watery, transparent like gel. The texture of its conditioner is also relatively soft, not as thick as the conditioner we generally use. And its texture is really smooth. Both shampoo and conditioner are floral fragrance.
After washing my hair, my hair really has a scent of flowers. I really like its smell. The picture is the outcome of using Pantene Micellar Shampoo & Conditioner Rose Water Extract.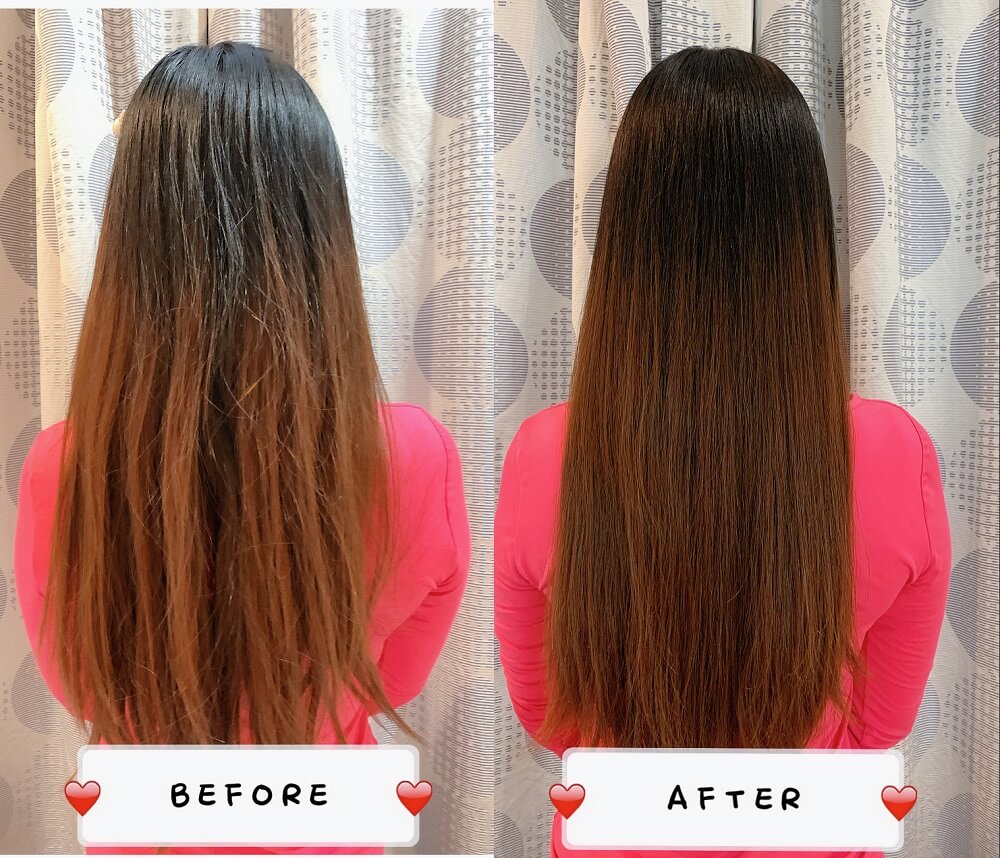 Let's talk about its shampoo first, I will give bonus marks to its shampoo, because its cleaning effect is really great. After I use it, I really feel that my scalp is very clean, and now I feel my hair is very light. So I would recommend its shampoo to you. As for its conditioner, I think its effect is almost the same as that of our general conditioner, that is, it will give your hair shine and smooth appearance after use, and then there is no split. Maybe for this conditioner, if you use it for a long time, it will improve your hair, because it contains vitamins B3, B5, these are the nutrients that our hair needs. However, the effect of the conditioner is usually temporary, we need to keep on using it, so that its effect will be maintained.
Alright ! This is what I shared today! If you like this kind of blog, you can subscribe to my blog. If you have any questions or suggestions, you can leave me a message below. Or if you are using the Pantene series products, whether it is pink, black, green or blue, you can share your experience with me below. See you, bye!