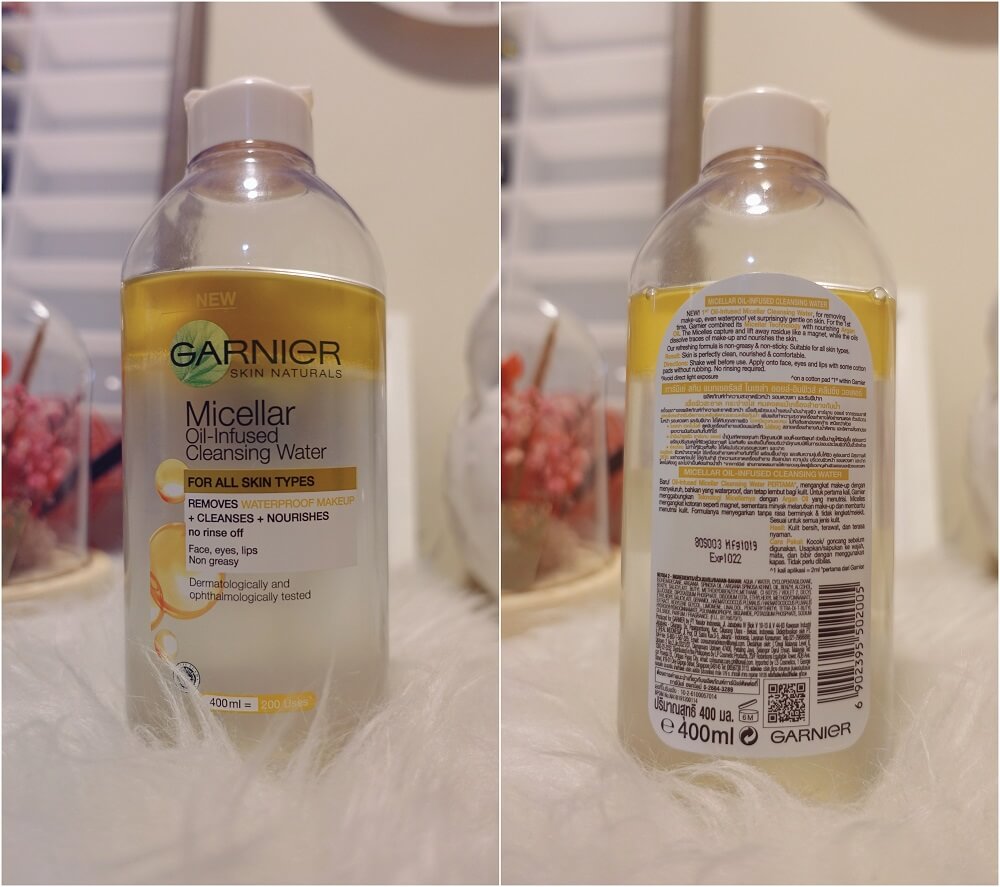 Hey! Thanks for viewing my first post ever. In my blog, I will be introducing and reviewing common personal care products like skin care products, cosmetics and even hair care products, and maybe sometimes will be sharing my baking recipe and some of my personal life (if you are interested to see haha). Basically , I will be doing a very detailed and realistic product reviews for all the products that I am using, it will be based on my personal feeling to the product in good or bad aspect.

A makeup remover that can acts as a routine skin care product, yet the price is lower than what you expected.
What I am going to introduce today is one of my favourite make up remover, is a product from Garnier, micellar oil infused cleansing water. Garnier is company from France , and this product is manufactured in Indonesia. Why am I choosing this among so many brands? One of the main reason is because of its cheap price. For such a big bottle, 400ml(about 200 uses), it costs only RM31.90. In addition, it's cleansing effect is pretty well, basically waterproof makeup can be removed thoroughly. And it is suitable to be used on sensitive part like lips and eye. Although is stated oil infused, but actually the after-use feel is quite easy, I don't really feel very heavily oil and burden to my skin(only slightly greasy to me, but my skin still can breathe). But to people with oily and acne skin, especially fungal acne skin, I still don't recommend you to use this series as it might worsen your skin condition. Indeed, I would suggest to use Garnier another series of make up remover, which is Garnier Micellar Cleansing Water (without the oil infused wording), which will leave you fresh and dry feeling after used.
One of the selling point of Garnier Micellar Oil Infused Water is it's micellar technology. Micelle is a particle that acts like a magnet to absord the make up and impurities from your face, so you no need to rub vigorously. But according to my personal experience, you still need to rub gently in order to remove stubborn waterproof makeup like mascara and eyeliner. Generally, I took 3-4 cotton pads and rub 3-4 times to remove my mascara and eyeliner throughly.
Another selling point of Garnier Micellar Oil Infused Water is its adding of Argan Oil. Argan oil is a plant oil that extracted from kernal of Morocco Argan Tree. Argan oil has very good nourshing effect and it also consist of high Vitamin E which help in antiaging. You can say that, Garnier Micellar Oil Infused Water acting as both makeup remover and skin care product. And to emphasize on this again, if you are fungal acne skin, Argan oil is not beneficial to you.
Is sensitive skin suitable for this product?
Besides, if your skin are sensitive, this product might not suitable to you as well. Because it's addition of fragrance like geraniol, limonene, linalool may trigger the outbreak of your skin. And it's another additive, ethylhexyl methoxycinnamate which has UV protection function might not suitable for sensitive skin as well. So if you are sensitive skin, as I mentioned above, Garnier's another series, Garnier Micellar Cleansing Water (without the oil infused wording), is more suitable for you.
And on the product label, it stated that no rinse off is required, but for me, I still rinse and do face wash after I used, as I prefer to have a fresh skin touch after I cleaned my face and usually I will apply other type of skin care product like toner, serum etc which is non-greasy.
So this picture shows the make up removing result. Before used, need to shake the bottle gently in order to mix the solution well. And I usually use a cotton pads to remove my make up. As I said before, I always tried 3-4 attempts to remove the stubborn waterproof makeup like eyeliner, mascara. In this picture, the maroon color lipstick is non-waterproof while the bottom black eyeliner is waterproof.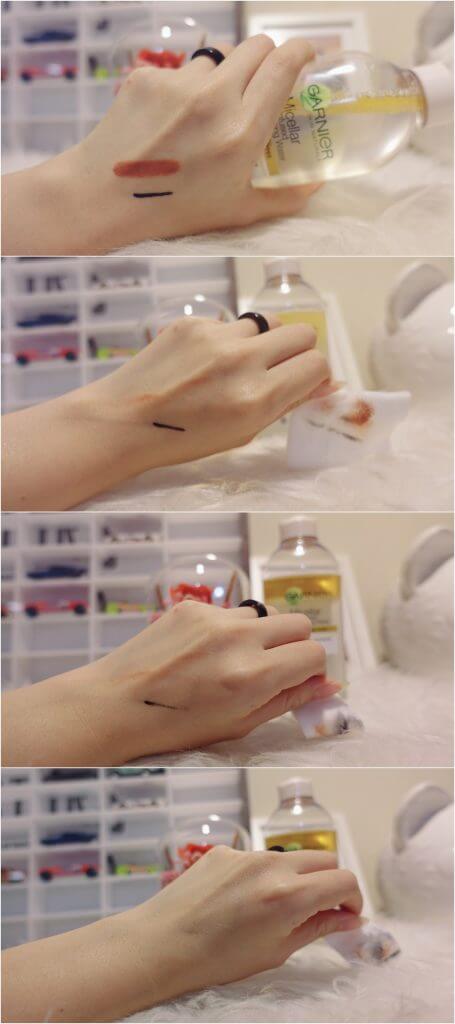 Alright!!!!! That's my sharing this time. Hope you all like it! And if you wish to know more detailed & realistic product review of personal care products from me, just hit the 'subscribe' button. And if you would like to recommend me to do review of any products, don't feel shy to leave a comment to me! Love ya~